The Wavelight Eye-Q excimer laser, is a self-aiming, small spot ("flying spot") laser system for the correction of nearsightedness, farsightedness, and astigmatism. At CLEI, we are pleased to offer this laser technology to our patients.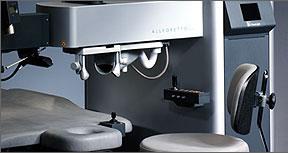 The Wavelight laser combines both eye tracking and small beam corneal shaping. The built-in eye tracker automatically follows any eye movements during the laser procedure. This allows the system to more accurately aim the laser beam and correct for any movement of the eye during the procedure.
Unlike other laser systems in current use, the Wavelight system uses a very small laser beam of less than 1 mm to shape the cornea. This allows for treatment of a large range of eye refractive problems and also allows the surgeon to choose a treatment size best for your eye.
The laser beam is moved rapidly across the corneal surface in a computer-controlled pattern of tiny overlapping spots. The amount of corneal tissue removed with each spot is very small, less than the thickness of a single human hair.
This changes the shape of the surface of the eye to correct nearsightedness and astigmatism and helps to produce an extremely smooth postoperative corneal surface which may reduce side effects and improve visual recovery.
In addition, by measuring and correcting all eye movements during the laser procedure, the Wavelight system maintains accurate placement of the laser beam, an additional safety feature. At the same time, your surgeon will carefully monitor your eye on a computer screen which provides additional control.
The Wavelight laser can be used for LASIK, LASEK/PRK, and Intralase procedures. We will discuss with you, in-depth, if a procedure using the Wavelight system fits your particular needs.