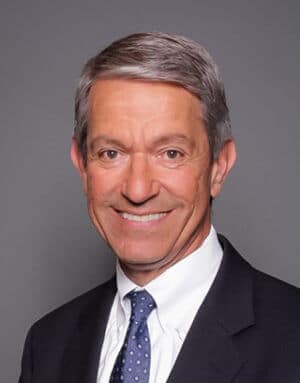 Dr. Peter S. Hersh, MD, FACS is the director of Cornea and the research division at CLEI. Dr. Hersh graduated from Princeton University and received his M.D. from Johns Hopkins Medical School. He completed his ophthalmology residency at Harvard Medical School where afterward he received specialized fellowship training in corneal surgery.
Dr. Hersh remained on the full-time faculty at Harvard for several years. In 1995, he founded the Cornea and Laser Eye Institute in New Jersey, dedicated to clinical care and research in LASIK, keratoconus, and corneal surgery. He founded the CLEI Center for Keratoconus in 2002, a subspecialty center focused treatment and research in keratoconus.
Currently, in addition to directing the Cornea and Laser Eye Institute, Dr. Hersh is a Clinical Professor of Ophthalmology and Director of the Cornea and Refractive Surgery Division at Rutgers Medical School, and Visiting Research Collaborator at Princeton University.
Dr. Hersh's interests are devoted exclusively to the cornea. His subspecialty corneal surgery expertise includes LASIK, custom LASIK, topography-guided LASIK, Intralase femtosecond laser procedures, LASEK, PRK, CK, Intacs, Keratoconus treatments, corneal transplantation, and other corneal, laser, and refractive surgery procedures.
At Princeton, he works with the Department of Aerospace and Mechanical Engineering investigating new laser applications to eye surgery.
Dr. Hersh has participated in many FDA clinical trials of excimer laser LASIK and other surgical corrections of nearsightedness, farsightedness, astigmatism, and keratoconus.
Most prominently, he was a lead author of the clinical study that led to the very first FDA approval of laser eye surgery for the treatment of nearsightedness in the United States in 1995. He also was one of 2 investigators to present the Conductive Keratoplasty procedure to the FDA device panel, resulting in its 2002 approval.
More recently, Dr. Hersh served as a medical monitor and was the lead author of the two studies leading to U.S. FDA approvals of corneal collagen crosslinking (CXL) for keratoconus and corneal ectasia.
Patients travel to New Jersey from all over the United States for consultation with Dr. Hersh due to his continuing research, clinical trials, and dedication to the field.
As a result of his extensive clinical and research work, Dr. Hersh has published four textbooks and more than 100 research articles and book chapters.
Ophthalmologist New Jersey
His widely used eye surgery textbook, Ophthalmic Surgical Procedures, first published in 1988, is now being rewritten for its 3rd Edition. His other books include Excimer Laser Surgery for Corneal Disorders, Refractive Surgery, and Eye Trauma.
In addition, Dr. Hersh has designed a number of refractive surgery instruments in current use, most recently the Hersh Intralase LASIK Flap Spatula.
Dr. Hersh has been elected to the American Ophthalmological Society, the oldest and most prestigious eye surgery association in the country. He has also been awarded the Senior Honor Award from the American Academy of Ophthalmology, an honor bestowed on fewer than 1% of eye surgeons and most recently, as of 2020, Dr. Hersh is a Life Life Fellow of AAO.
He has been selected for Best Doctors in America for over 14 years running. He is the only LASIK and corneal surgery specialist to be listed in New York Magazine, New Jersey Monthly, and New Jersey Life as one of the top doctors in the New York metropolitan area.
He and his work have also been featured on the Today Show, PBS, America Tonight, Fox News, People Magazine, the New York Times, the Bergen Record, the Newark Star-Ledger, and other national media.
Dr. Hersh has trained over a thousand eye surgeons in excimer laser refractive surgery techniques and is a past recipient of the Teacher of the Year award bestowed by the Harvard Medical School Department of Ophthalmology.
His extensive lecture schedule has taken him throughout the United States and to countries such as France, the Netherlands, China, Taiwan, India, Vietnam, Brazil, Chile, Venezuela, Portugal, Switzerland, Italy, Canada, and Korea. Moreover, he is actively involved in a number of international projects to bring education and eye care to developing countries.
As a result of his philanthropic work, he was awarded a Paul Harris Fellowship from Rotary International.
Dr. Hersh has a longstanding interest in sports eye injuries and was co-author of the book Eye Trauma. He is the Team Ophthalmologist for New York Jets Football.