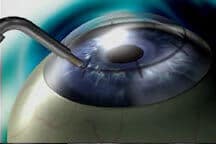 Conductive Keratoplasty, better known as CK, uses radiofrequency (RF) energy to reshape the cornea. It does this by shrinking the collagen fibers of the cornea, analogous to changing the shape of a football by tightening the laces.
Although CK is not specifically FDA approved for treatments of keratoconus, it can be selected by the patient and surgeon as an "off-label" procedure if appropriate. In keratoconus treatment, the goal is to smooth and improve the optics of the surface of the keratoconic cornea.
CK applications also may help reduce astigmatism and center the keratoconic cone to improve contact lens fit or vision with glasses.
At The CLEI Center for Keratoconus, we are working on innovative approaches to treating keratoconus. In some cases, it is beneficial to combine CK with Intacs.
By combining with Intacs, or performed after the Intacs suture is removed, CK may allow for the better reshaping of the keratoconic cornea. In fact, Dr. Hersh was the first to perform this combination procedure in the U.S. At your exam, we will discuss this with you if we think you are a good candidate for the Intacs/Conductive Keratoplasty combined surgery.
CK tightens and steepens flatter areas of the cornea. It has an effect analogous to pushing the ends of a football together to make the football more basketball-shaped. Thus, it can help make the keratoconic cornea smoother and more symmetric.
The CK Procedure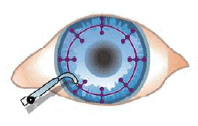 The CK procedure is performed using a small probe that releases radiofrequency (RF) energy. After the application of a topical anesthetic (i.e., numbing eye drops), radiofrequency (RF) energy is applied to shrink small areas of corneal tissue.
Vision may begin to improve the day after the procedure but may fluctuate for a few weeks to months. Most people can return to work one or two days after the procedure. The total healing may be a several month processes, and we will continue to assess your vision throughout the year.