The Cornea and Laser Eye Institute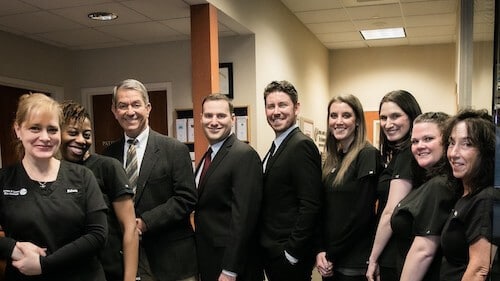 Founded in 1995 by Dr. Peter Hersh, the Cornea and Laser Eye Institute – Hersh Vision Group is a nationally renowned center specializing exclusively in vision correction and corneal surgery. Dr. Hersh's vision from the beginning was to create a center of excellence dedicated to the eye surgery subspecialty of laser, refractive, keratoconus, and corneal surgery, and devoted to the best patient results and a leadership role in the U.S. in this unique medical field.
The Cornea and Laser Eye Institute is a recognized a leader in the field of LASIK, corneal surgery, and keratoconus. In addition to our surgeon's and doctor's extensive training and experience in LASIK and other refractive surgical techniques, CLEI's excellent patient results derive from our meticulous attention to detail, highly trained technicians, state of the art equipment and laser technology, humidity and temperature controlled laser room and sterile procedure technique, and careful screening and examination of our patients.
To assure your experience is of utmost comfort and success, our staff has been carefully trained in all procedures correcting refractive errors and other corneal disorders, including LASIK, Intralase femtosecond laser, flapless LASEK, PRK, CK, Intacs, Wavelight, reading vision correction, implantable lenses, advanced corneal surgery and transplantation techniques, premium cataract surgery with the newest implants and laser innovations, and other procedures. They will provide you with the essential information regarding vision correction surgery based upon your individual needs, and help you make a better educated decision as to whether laser vision correction is right for you.
The CLEI team will make your experience with us pleasant, informative, and successful. We are always available to discuss any questions or concerns you may have.
The Cornea and Laser Eye Institute is open Monday, Wednesday, Thursday, and Friday from 8:30am to 5:00pm and Tuesday from 12:00pm to 8:00pm. We understand the busy schedule of our patients, so our courteous patient management team will try to accommodate your schedule as much as possible.
CLEI is located in Teaneck, New Jersey and we serve the nearby Paramus, Morristown, and Princeton communities. We are the choice destination for Manhattan, New York City patients seeking LASIK laser eye surgery. We know that a number of people will be traveling longer distances to see us. For your convenience, we have a hotel in our complex and also work with a number of doctors around the U.S. and internationally. In addition, please click on the links below for travel information and accommodations near us.